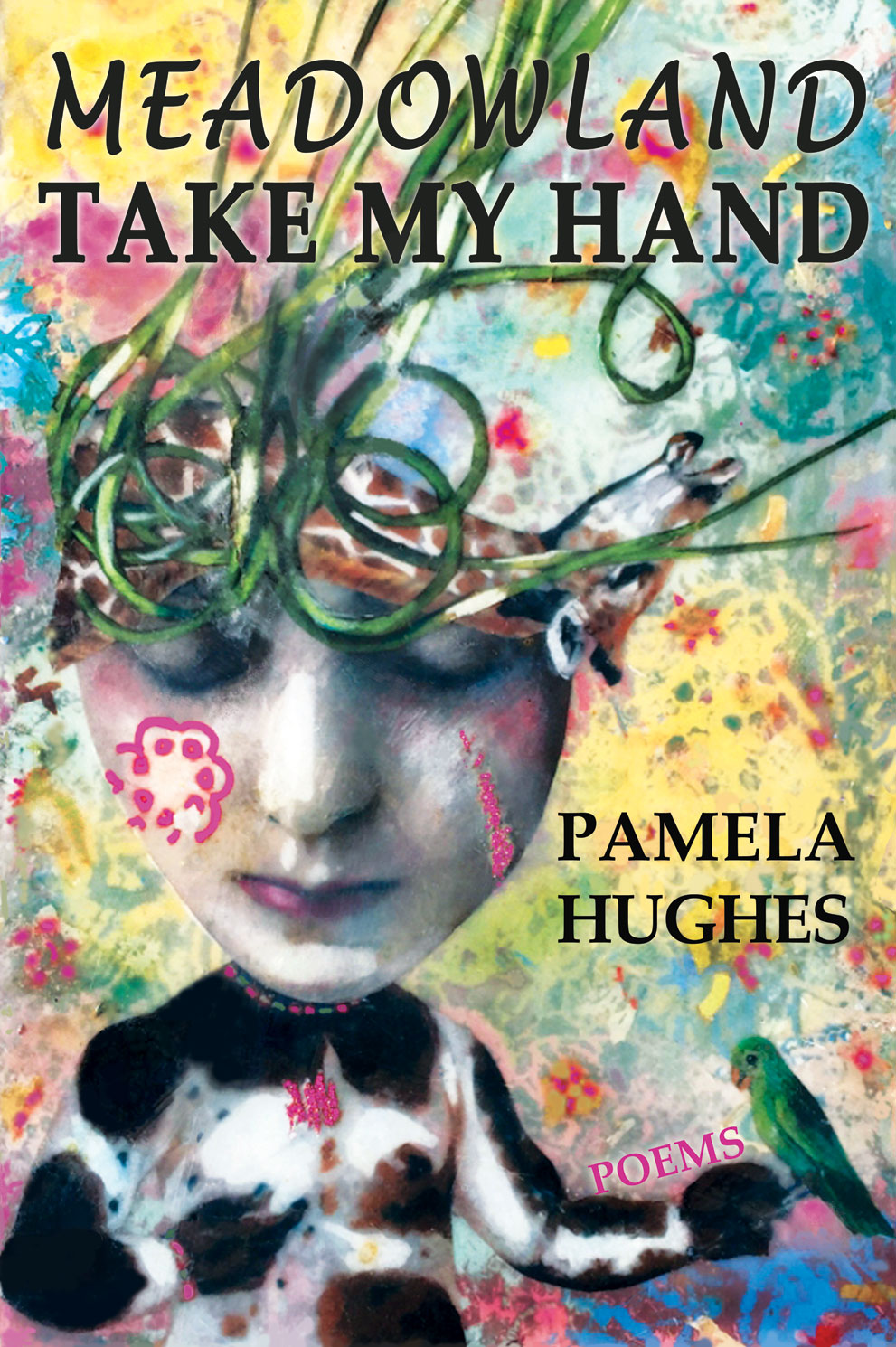 Poetry
Author: Pamela Hughes
Published: 2017
ISBN: 978-0-9983406-7-8
pages: 96                                                                                                                                                                                                                                                          
$18.00Add to cart
"In Meadowland Take My Hand, Pamela Hughes' eye reaches what is both beautiful and mundane. Literally or spiritually, she gives each landscape her vibrant, precise attention in all of its colors and textures. Nature itself doubles as a narrative or autobiography. Hughes writes, "And you are revised – /like the sky after a thunderstorm". These poems, which praise the joys and tensions of ordinary life, offer a refreshing candor. Hughes elevates the common alphabet of the daily world to the poet's luminous ecstasy. She writes, "For your ardor,/the gods were generous." In these poems, a landscape and a woman witness each other intimately in sustained moments of transformation. The history each holds for the other is as lush and undulant as paradise, or, a landfill. Hughes asks us to examine the natural and artificial borders between ourselves, and the earth. Her poetry suggests that each, in the name of desire or fear, invades and needs the other. Richly rendered and deftly crafted, the energy of Pamela Hughes' poetry offers one of the most original love letters to the New Jersey Meadowlands that I have ever seen. Listen to the miracle of her voice: "Tongues of orange light speak/a language we know,/but have forgotten./It is our loss." –RACHEL ELIZA GRIFFITHS, author of: Lighting the Shadow; Mule and Pear; and Miracle Arrhythmia
"Brooklyn has Whitman, Manhattan has O'Hara, Harlem has Hughes, and with this acutely visual and uniquely rhythmic mapping of geographical memory, Pamela Hughes reaffirms her permanent appointment as poet laureate of the New Jersey Meadowlands and the unexplored territories therein and there out. What a great book of poems." —PAUL BEATTY, author of The Sellout, winner of The Man Booker Prize.
"Pamela Hughes' has given us a book of celebration, of protest, of concern and grief for the way that we are ruining our world. She captures in this collection: beauty longing and love for the land, the earth.  This is a necessary book, a book we all should read–one that we keep on our bedside tables to remind us of what's important."– MARIA MAZZIOTTI GILLAN, American Book Award winner
"This environmentally awake book is a New Jersey treasure, brimming with the Garden State's many hidden beauties, like ' . . . the painted turtle basking on the sun of a small rock,' treasures discovered and uniquely  illuminated in Pamela Hughes' smart, sassy, sometimes funny, rich, allusive reveries." –SANDER ZULAUF, Editor Emeritus, Journal of NJ Poets and author of Basho in America.
THE MEADOW
It's easy to arrive at the answer here
in the sibilant shush and click
of tall grasses worked by the wind,
like the source of sand pouring from a bucket.
The field is a sum of the sun,
a total of stems under slender reeds,
and unruly burnt brown summer tassels.
It becomes tide and tickle
of warm air on the tops of my hands,
a tug of teal algae-bloom
from the still, brackish water
alongside the quiet train tracks.
Silence speaks the loudest here.
Its tongue is golden and mint green.
There's no commotion in the slow motion
of shallow spring-warmed creeks winding
along the fresh or salt water ways.
How does a meadow move you?
I rustle and glide
like a low swooping bird–
seeking nothing but the welcome of distance,
wild streaks and strands
of phragmites and birch boughs–
the unbowed salve of green.
           from Meadowland Take My Hand