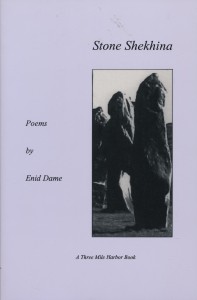 ENID DAME
• Poetry
• Pages: 70 pages
• Published 2002
• ASIN: B0006S6WIK
$9.95Add to cart






Critical Acclaim:
"Audacious and painful, full of comedy, wisdom and loving kindness, Enid Dame's
Biblical characters are as modern as our neighbors, our families, our stumbling
selves. Enid Dame's Bible is truly a tree of life sprouting exuberantly through dis-
asters – and she is one of the great midrashists of our time."–Alicia Ostriker

A selection from Stone Shekina:
STONE SHEKINA
Here, stones
hold in the river.
I walk between them
baffled by extravagance
of flowers white purple large as toy trumpets.
Generosity of summer night:
bright playthings: embroidered skirts scarves paper lilies
swaying above us.
My language
has few words for flowers.
Our ancestor
was a man of stones.
He learned how to live with stones,
how to work with them,
to make them work…